INTRODUCING PHASE TWO
OF THE NEW
TIMBER CANYON DEVELOPMENT
This premier subdivision has just been expanded by 25 additional scenic lots. Find a harmonious balance from the hustle & bustle as you meander through this natural setting & arrive at your doorstep. Find breathtaking panoramic views in every direction w/ a rolling & wooded landscape. Choose from wooded, south facing, walk-out or look-out basements.
With downtown Menomonie just 1 mile away & easy access to bike/walking/ski trails, public boat landing, parks, UW-Stout & I-94.
Visit
Timber Ridge Custom Homes
to see the quality craftsmanship and detailed design that can only be found in a Timber Ridge home.
Lot Size and Price Details
| | | | | |
| --- | --- | --- | --- | --- |
| Lot # | Acreage | Price | Features | Status |
| 13 | .52 | | Lookout | SOLD |
| 14 | .49 | $274,900 | Walkout | SPEC |
| 15 | .52 | | South Facing Walkout | SOLD |
| 16 | .66 | $45,900 | South Facing Walkout | |
| 17 | .79 | $45,900 | South Facing Walkout | |
| 18 | 1.10 | $45,900 | South Facing Walkout | |
| 19 | 1.14 | $44,900 | South Facing Walkout | |
| 20 | 5.48 | $68,000 | Fully Wooded Walkout | |
| 21 | .97 | $49,900 | Partially Wooded Walkout | |
| 22 | .90 | $46,900 | Corner Lot Walkout | |
| 23 | 1.29 | $54,900 | Partially Wooded Walkout | |
| 24 | 1.01 | $54,900 | Partially Wooded Walkout | |
| 25 | .80 | $56,900 | Wooded Walkout | |
| 26 | .71 | $56,900 | Wooded Walkout | |
| 27 | 2.12 | $58,900 | Wooded Walkout | |
| 28 | 2.8 | | Wooded Walkout | SOLD |
| 29 | 1.09 | $56,900 | Wooded Walkout | |
| 30 | .51 | $50,000 | Wooded Walkout | |
| 31 | .70 | $52,900 | Partially Wooded Walkout | |
| 32 | .86 | $52,900 | Partially Wooded Walkout | |
| 33 | .81 | $52,900 | Partially Wooded Walkout | |
| 34 | .63 | $44,900 | Corner Lot Walkout | |
| 35 | .54 | $44,900 | Walkout | |
| 36 | .58 | $44,900 | Partially Wooded Walkout | |
| 37 | .63 | $44,900 | Partially Wooded Walkout | |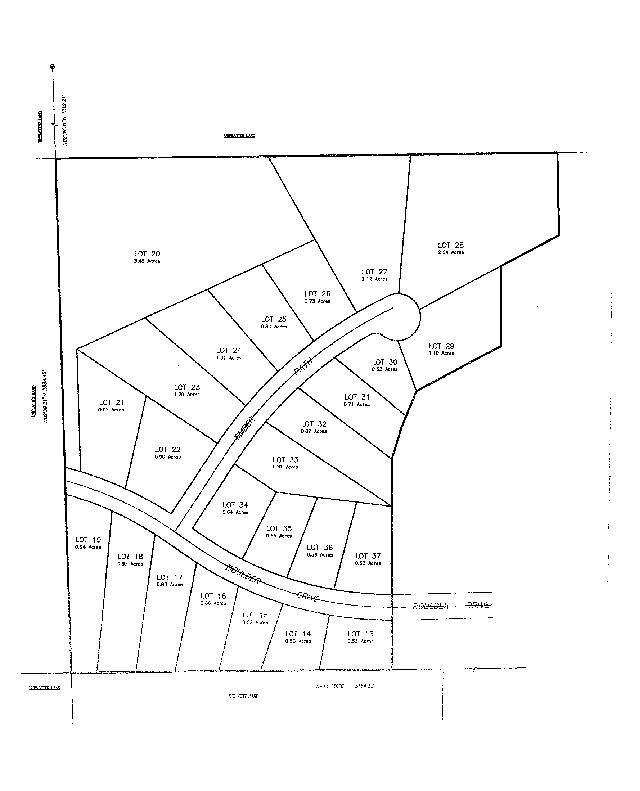 ---
Phase 1
Lot Size and Pricing
| | | | | | |
| --- | --- | --- | --- | --- | --- |
| Lot 1 | Walkout, .96 acres | SOLD | Lot 7 | Wooded/Walkout, .97 acres | SOLD |
| Lot 2 | Walkout, .63 acres | SOLD | Lot 8 | Wooded/Walkout, 1.24 acres | SOLD |
| Lot 3 | Walk out, .78 acres | SOLD | Lot 9 | Wooded/Walkout, 4.39 acres | $79,900 |
| Lot 4 | Lookout, .55 acres | SOLD | Lot 10 | Lookout, .6 acres | SOLD |
| Lot 5 | Lookout, .67 acres | SPEC | Lot 11 | Walkout, 1.51 acres | SOLD |
| Lot 6 | Wooded/Walkout, 1.11 acres | SOLD! | Lot 12 | Walkout, .90 acres | SOLD |
---